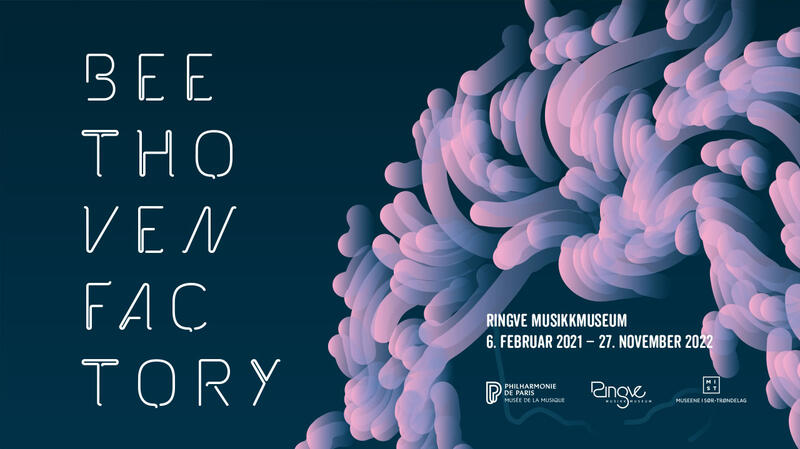 Beethoven Factory
An innovative exhibition opens at Ringve 6 February  - 14 February 2021

Ludwig van Beethoven was a star in his own time. Today, he is a superstar, an icon and a phenomenon all over the world. 
Inside the exhibition, you can experience Beethoven's impact in today's society, both through mass media such as TV, film, advertising and pop music, also in politics and art. At the same time, Ringve Music Museum exhibits unique objects and rare musical instruments from Beethoven's time.
Welcome to the Beethoven factory!
The exhibit is an audiovisual installation by  the Musée de la Musique, Philharmonie de Paris, produced for Ringve Music Museum. It is curated by museum director and curator Marie-Pauline Martin and supervised by project manager and senior curator Annabella Skagen.
Beethoven Factory
Music from a Box – on Mechanical Music Instruments

Exhibition 2. February 2019 – 10. January 2021

In the exhibition "Musikk from a Box" we follow some phenomena in the culture of mechanical instruments. The setting is Norway in the time of the emergence of modernity, democracy and industrialization. We meet the eighteenth century musical clock and serinette as well as the nineteenth century barrel organs, especially the Norwegian Steinkjerpositiv. 
Furthermore we explore the player piano and reproducing piano as well as the musical boxes in the burgher salon at the turn of the century. Finally, we stroll along some public arenas for the automata and the fully automatic electric instrument in the early 1900s.

The exhibition touches questions on reception conflicts from musical, aesthetical, economical and ideological perspectives. The multitude of repertories in various social arenas, is shown and also demonstrated on guided tours. Certainly, the visitor also can explore the technology of the instruments and the principles of the media: music rolls, barrels and discs.